What our guests have said about their stays with us in Baymount House...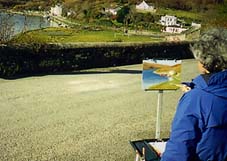 " Lovely stay, one of the best B&B's we stayed in Ireland",
Andrew & Prue Kohlrusch, Erskineville, N.S.W., Australia.

"Herzlichen Dank, das Zimmer und Service war ausgezeidnet",
Robert und Maria Dolzer, Linz, Austria.

" Thank you for your hospitality!",
Alvard and Rosario, Urugay, South America.

"Wonderful! So charming!",
Don and Vicki Yarder, Spokane, U.S.A.

"Very warm welcome appreciated, "
Don and Sylvia Morgan, British Colombia, Canada.

"Great stay, lovely food",
Patricia and Brendan O'Neill, Belfast, Ireland.

"After morning breakfast, I just had to paint the scene before us, old fishing boats reflecting in the water , surrounded by shades of green! We enjoyed the quietness and comforts of our room. Breakfast and the wonderful hostess and staff.. Thanks for everything!!!"
Bob and Paula Bacinski, Rolling Hills Estates, California, U.S.A.